YESAIR - Seven Channel Air Quality Monitor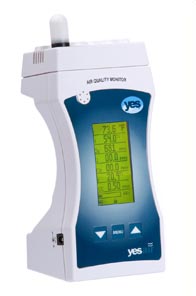 YESair is a sophisticated, multi-sensor air quality monitoring and information recording instrument that simultaneously measures and records temperature, relative humidity and Carbon Dioxide levels in the air. It also measures and records the levels of four more gases with specific plug-and-play sensors installed. The YESair offers the largest selection and widest range of sensors available on the
market. The LCD display indicates all installed sensor types and measured values for each gas as well as battery status and other information.
All seven sensors are installed internally and an air sample from the target environment is delivered to them through active sampling by the internal sample pump. The instrument will operate continuously from the supplied wall adapter/battery charger. The user can also set one alarm level for each gas to activate the internal audible alarm.
Seven-channel Air Quality monitor Measures temperature RH plus Add up to five additional sensors internally.
Seven-channel Air Quality monitor

Measures temperature, RH plus

Add up to five additional sensors internally

All five sensor positions are plug and play

Widest assortment of sensors on the market

LCD displays all sensors

Internal sample pump

High capacity information recording to flash card

Internet accessible option

Network option

Terminal software available
YESAIR Literature

YESAIR Brochure


YESAIR Specifications


YESAIR Operation Manual