TT 570 Low Res Micromanometer from DP Measurment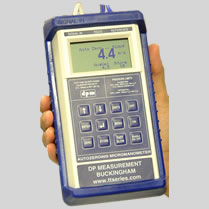 The TT 570 Low Res Micromanometer with its unique differential capacitance transducers and programmable auto zero facility stores a maximum of 2500 readings. Readings can be downloaded to PC in basic format with optional download software.
Weighing 555 g, measuring 45 x 92 x 185 mm and powered by a single battery; the TT 570 Low Res Micromanometer is ideal for the modern engineer.
Robust

Durable

No Sensing Electronics

No Moving Parts

Velocity From 0.30 m/s (60 ft/min)

Use in conjunction with tried & tested dpm micromanometers
Other accessories sold separately.

TT 570 Low Res Micromanometer Specification