Wireless Temperature/Humidity Station Shield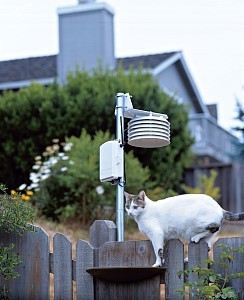 Customize your Vantage Pro2 weather station, Weather Envoy or Envoy8X by adding special-purpose stations and sensors.
This battery-powered wireless station will transmit Temperature and Humidity readings to a Vantage Pro2 console/receiver, a Weather Envoy, or Envoy8X. The data can be viewed using the Vantage Pro2 console or by using either a Weather Envoy or Envoy8X with WeatherLink.
Features
Temperature and humidity sensors are inside a protective radiation shield that protects against solar radiation and other sources of radiated and reflected heat

Wireless transmitter and battery are inside a weather-resistant shelter

Updates every 2.5 seconds

Frequency-hopping spread spectrum radio for continuous data transmission
Temperature and humidity sensors

Hardware for mounting on fence post or pole
Wireless transmission up to 1,000 ft. (300 m)

Expected battery life for included lithium battery is 6-9 months under normal conditions

Not compatible with original Vantage Pro or as an additional station for Vantage Vue