Minigraph Recorders from Dwyer Instruments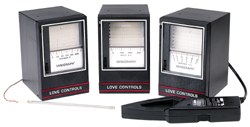 Minigraph Recorders combine compact size, durability, accuracy and low cost for an exceptional value. Units are widely used in applications ranging from commercial, industrial, and process to laboratory, field, marine, aerospace and more.
Series 1200 Minigraph Recorders use a unique stylus which records on special pressure sensitive paper. No messy ink pens, reservoirs or ink cartridges are used, eliminating maintenance problems and data loss caused by dry pens.
Stock temperature recorders come complete with 6" long x 3/16"dia. K type thermocouple protected by a 304 SS sheath with 8 ft. fiberglass insulated cable. They will record a full 31 days of information on a single 62 ft. x 2-9/16" wide paper roll. Stock units operate from a 120 VAC power source; special units are available for 240 VAC or 12 VDC.

Minigraph Recorders
PHYSICAL DATA
Pen Response Speed: 1 second full scale. Stylus strikes chart once in two seconds. Dot density depends on chart speed.
Ambient Temperature: 32-122°F (0-50°C).
Accuracy: ±2% of span for DC and temperature inputs; ±3% of span for AC inputs.
Power Supply: Selectable from 120 VAC, 60 Hz, 3W nominal; 240 VAC, 60 Hz, 3W nominal or 12 VDC, 20 mA nominal.
Chart Size: 2 9/16 in. wide x 62 ft. Long with 2 1/8 in. active width (65 mm wide x 19 m long with 54 mm active width).
Housing Size: 3 5/8 in. W x 5 5/8 in. H x 4 5/8 in. D (92 mm W x 143 mm H x 111 mm D).
Weight: 3 1/2 lbs. (1.6 kg).

CHARTS (Packed 6 per box)

| | |
| --- | --- |
| Part No. | Major/Minor Divisions |
| MG651-691630 | 8/40 |
| MG651-691760 | 10/50 |
| MG651-691770 | 15/75 |
| MG651-691950 | 10/47 |
| MG651-691650 | 12/60 |
| MG651-220920 | 14/70 |