Digital Mass Flow Controllers from Dwyer Instruments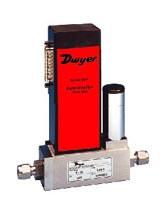 Program, record, analyze, and control flow rates of various gases with Series DMF Digital Mass Flow Controller. Controllers are designed with straight tube sensos with restrictor flow elements to ensure laminar gas flow for accurate and repeatable results. Series DMF are unaffected by temperature and pressure variations.
Controllers can be programmed for various control functions including flow set point, totalizer, stop totalizer, totalize from preset flow, stop and preset total, auto zero, and more. Auto zero feature utilizes an automatic balancing circuit that virtually eliminates drift of zero and span. In addition, Series DMF controllers have two dry contact closures to operate pumps, valves, or other process equipment.
The Series DMF features an auto tune function to optimize control response for specific gas under actual process conditions. Self diagnostic tests are run at power up to ensure the controller is in optimum working condition. Calibration information for up to 10 gases and conversion factors for up to 256 different gases are stored in memory. High and low gas flow alarm limits are programmed via RS-485 interface. Software supports programmable flow modes, allowing execution of custom programming of up to ten steps.

Digital Mass Flow Controllers Series DMF

Gas Mass Flow Controllers Series GFC

Gas Mass Flow Meters Series GFM
PHYSICAL DATA
Accuracy: ±1% FS including linearity between 59 to 77°F (15 to 25°C) and 10 to 60 psia (0.7 to 4 bar); ±2% FS from 32 to 122°F (0 to 50°C) and 5 to 150 psia (0.3 to 10 bar)
Repeatability: ±0.15% of full scale.
Operating Temperature: 41 to 122°F (5 to 50°C)
Maximum Gas Pressure: 500 psig (34.5 bar).
Response Time: 0.6 to 1.0 second to within ±2% of setpoint over 20% to 100% FS.
Power Supply: ±15 VDC; 13.5 Watts maximum.
Output: Linear 0-5 VDC (2000 ohms min. load impedance); 0 to 10 VDC (4000 ohms min load impedance).
Temperature Coefficient: 0.05% FS/°C or better.
Pressure Coefficient: 0.01% FS/psi (0.07 bar) or better.
Leak Integrity: 1 x 10-9; sccs of Helium.
Max. Particulate Size: 100 microns.
Computer Interface: RS-485
Process Connections: ¼" compression fitting for flow rates less than or equal to 50 L/min; 3/8" for flows greater than or equal to 60 L/min.
Wetted Parts: 316 stainless steel, 416 stainless steel, Vitron® O-rings.
POPULAR MODELS

Model Number*
Range
Model Number*
Range
DMF-41401
DMF-41402
DMF-41403
DMF-41404
DMF-41405
DMF-41406
DMF-41407
0 to 10 sccm
0 to 20 sccm
0 to 50 sccm
0 to 100 sccm
0 to 200 sccm
0 to 500 sccm
0 to 1 L/min
DMF-41408
DMF-41409
DMF-41411
DMF-41431
DMF-41433
DMF-41842
0 to 2 L/min
0 to 5 L/min
0 to 15 L/min
0 to 30 L/min
0 to 50 L/min
0 to 100 L/min
*Specified flow ranges are for an equivalent flow of nitrogen at 70°F (21°C) @ 760 mm Hg.

Accessories
Model DMF-110P 110V Power Supply with 25 pin connector
Model DMF-220PE 220V Power Supply with 25 pin connector
Model DMF-CBL1 6ft cable with branch to separate power supply
Model DMF-CBL2 6ft cable with branch to computer port