Hedland Variable Area Flowmeters - EZ-View Flow Meters, Lubeview Flow Monitoring System
EZ-View Flow Meters
Featuring Hedland's unique spring loaded variable-area design, it offers you a reliable, trouble-free flow rate indicator to monitor a wide range of liquids (including aggressive chemicals) under rigorous conditions frequently required in industrial class applications. EZ-View meters can be installed in any position without affecting accuracy and can be installed quickly without costly flow straighteners or other special plumbing requirements. These meters operate within ± 7% accuracy and are constructed of rugged Polysulfone plastic. Available in ½, ¾, and 1 inch NPTF or ¾ and 1 inch brass and PVC sweat fittings. An optional AC or DC Flow-Alert flow switch automatically signals alarms if flow is too high or too low.

The standard flow scale is calibrated in GPM and LPM, at 1.0 specific gravity for water and water-based emulsions, or at .876 specific gravity for oil and petroleum-based fluids. Special scales are available in other units of measurement or specific gravities.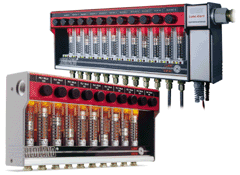 Lubeview Flow Monitoring System
The Lube View Oil Lubrication Monitoring System is designed to protect high speed machinery from unscheduled production downtown, thus extending equipment life and reducing maintenance costs. Offered in a variety of sizes to monitor from one (1) to twenty-four (24) meters per manifold. Lube View offers several flow range options: 3.0 pints per minute (PPM), 8.0 PPM, 12.0 PPM, 1.4 liters per minute (LPM), 4.0 LPM, 6.0 LPM, 6.0 gallons per minute (GPM), 12 GPM and withstands temperatures up to 180 °F. This rugged manifold mounted monitoring system combines visual flow indication and flow control in a compact centralized monitoring system. Lube View comes standard with 1 inch NPT inlet ports and ½ inch NPT outlet ports, other options are available, consult factory.

The oil flow is monitored using two independent, easy-to-read flow indicators. The piston-type variable area flow indicator allows the operator to obtain an accurate flow indication against a numerical graduated scale on the transparent flow tube body. Meanwhile a secondary spinner-type indicator, located in the inlet portion of the flow meter body, provides a highly animated, quick visual indication of flow.

The Lube View Flow Monitoring System is now offered with a state-of-the-art electronic interface option that links each and every lube line in the system to a centralized data acquisition/process control computer. The Lube View Reed Switch options offers a simplified version with one single or double switches to activate low or high alarms, and is configured with one master manifold relay.