Food Temperature Probes

from TPI (Test Products International)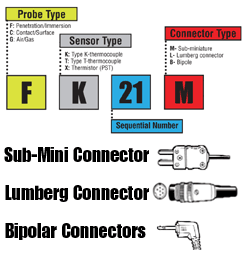 Contact / Surface Probe Applications (C)
Measure griddle temperatures to assure correct cooking temperatures.

Check frozen food to assure proper storage temperatures.

Measure temperatures between package to ensure proper quality control.

Check any surface for correct process control temperatures.

Measure superheats on condensers.

Measure griddle temperatures.

Measure machinery or mold temperatures with a surface probe.

Measure pipe temperatures in any industrial application.
Penetration / Immersion Probe Applications (F)
Check internal food temperatures to assure quality control.
Measure deep fat fryers with a high temp immersion probe.
Measure liquids and semi-solid temperatures in food processing applications.
Use a reduced tip probe for quicker response times where time is crucial to the process.
Air Probe Applications (G)
Measure air temperatures in duct work.
Measure air temperature coming from diffusers while
Trouble-shooting heating and air conditioning systems.
Measure flame temperatures to trouble-shoot industrial
heating applications.
Calibrate thermostats using an ambient air probe.
TPI has three basic types of temperature probes: penetration/immersion, contact, and air. Each type comes in varied tips and connector types.