Trident Digital Panel Meters From Precision Digital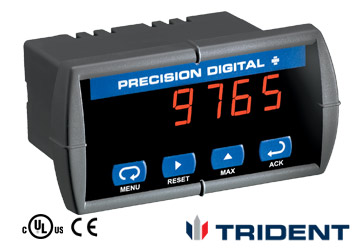 PD765: Trident Process and Temperature Digital Panel Meter
The PD765 Trident digital panel meter is one of the most versatile meters on the market and will satisfy a wide variety of process applications. The Trident can be field programmed to accept process voltage (0-5V, 1-5V, etc) and current (4-20 mA) inputs,
100 Ohm RTDs, and the four most common thermocouples. It is housed in a shallow-depth, 1/8 DIN enclosure that features a NEMA 4X front panel and convenient mounting hardware. There are two power options for the Trident: 85 to 265 VAC or 12-36 VDC and it can provide 24 VDC to power the transmitter if needed. Programming and setup can be performed with the four front panel pushbuttons, free MeterView software, or using the Copy function.

PD765: Trident Digital Panel Meter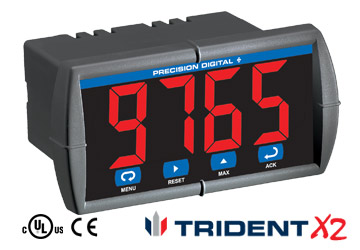 PD765 Trident X2: Process and Temperature Digital Panel Meter
The display height on the standard Trident meter is 0.56"
(14.2 mm) and on the Trident X2 the supersized display height is an astounding 1.2" (30.5 mm). The Trident X2 can be read easily from distances of up to 30 feet! Both meters are available with all Trident features. The intensity of the display on both versions of the Trident can be adjusted to compensate for various lighting conditions, including direct sunlight.

PD765 Trident X2 Digital Panel Meter