Gas-Sentry™ Portable Lightweight Multigas Detectors From Bascom Turner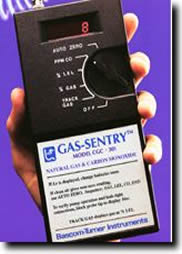 Gas-Sentry®
Reliable, Lightweight Multigas Detectors
All Gas-Sentry® models are now available for purchase through our online store.
Description
The Gas-Sentry®, developed with support from the Gas Research Institute (GRI), is a microprocessor-based, intrinsically safe detector for natural gas and, when equipped with appropriate sensors, for carbon monoxide and oxygen.
Working Features

Measurements over the range of gas from 100 ppm to 100% gas
A calibrated Track Gas scale with quick response displays in 0.01% gas intervals
Easy to use: one selector switch sets scale
Audible and visual alarms for all monitored gases
Amenities
Bright, highly efficient LED display readable at 20 feet
Leatherette "carry-all" accomodates instrument and probes
Special filters for flue gas testing and for hydrocarbons
A tough package weighing only 20 oz
Bottom Line
A reliable, accurate, highly portable gas detector specifically designed for service personnel
Literature
Checking For Gas Thru Holes
in Manhole Cover

Carryall With Pouch for
Standard & Flue Probe
Features Common To Gas-Sentry Multifunctional Instruments Include:
Automatic Calibration: With Bascom-Turner's calibration gas
Automatic Zero: zero adjusted automatically
Automatic Sampling: intrinsically safe pump samples air or flue gas
Automatic Self Tests: of battery, sensors, pump, and connections
Audible Alarms: factory set and user adjustable
Easy-to-Use: one selector switch sets mode and scale Easy-to-Read, Bright Display: digital, LED display for indoors and outdoors
Dust and Water-Block Filter: keeps dust and water out
Tough, Light-Weight Package with Carryall: housed in high impact ABS, detector weighs only 20 ounces; leatherette carryall for hands free portability
2 in 1 Bump Gas: quick CO and GAS sensor test in thumb-size pkg.
Intrinsically Safe: UL listed for hazardous locations, Class I, Div. 1, Groups A, B, C, and D atmospheres.
Instruments Specifically Designed For And Used By: