Gas-Explorer™ Hand Held Gas Detector From Bascom Turner

Gas-Explorer™
State-of-the-art, Easy to Use Gas Detectors, now with Eletronic Leak Sheets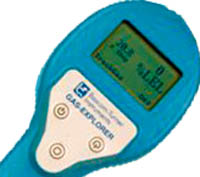 Description
The Gas-Explorer™ natural gas and combined natural gas, CO and O2 detectors are intrinsically safe, microprocessor based instruments designed to test ambient air and flue gas over a wide temperature range. Gas Explorers are housed in a high-impact, ergonomic case, yet weigh only 24oz (680g).
Working features
Measurements over the range of gas from 20ppm to 100% gas
A calibrated Track Gas scale with quick response displays in 20 ppm intervals
Bar holing: Peak and sustained readings displayed at the end of a fixed time
Two speed pump: Intrinsically safe pump automatically set for the job at hand
Visual and audible alarms for all monitored gases
Optional Electronic Leak Sheets
Optional GPS capabilities
Amenities
Three button operation (no menus) and an on-board operating manual
Automatic storage of up to 6 months of time and mode-stamped operating data
Automatic storage of calibration data from the last 24 calibrations
A USB interface for data transfer and docking calibration
Bottom Line
An affordable, rugged, accurate, easy to use detector for both construction and service personnel, now with Eletronic Leak Sheets.
Literature

Brochure - PDF


Specifications and Models - PDF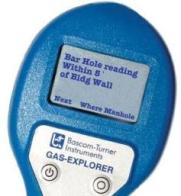 Electronic Leak Sheets Paperwork without the Paper
Electronic Leak Sheets are custom-built to follow your company's standard operating procedures. Let the Gas-Explorer fill out your leak sheets while you work with no messy paperwork or cumbersome extra steps. Simply follow the on-screen prompts, and download via USB or Bluetooth when finished.
Why Electronic?
A structured approach: the built in routines remind personnel of what needs to be done and the order in which to do it.
Standard operating procedures are consistently followed.
Automatic recording of readings minimizes errors.
Converts messy, illegible, hand written leak sheets to transparent, easy to read documents.
Bottom Line
Automatic data entry improves accuracy and increases productivity in the field and at the office.