Partlow Plus Series 1401+ 1/4 DIN Limit Controller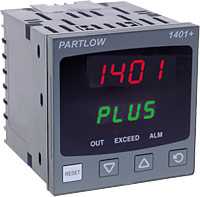 The 1/4 DIN Partlow 1401+ limit controller comes from the Partlow Plus Series, which also has 1/8 and 1/16 DIN models. Partlow Plus Series 1401+ limit controllers incorporate numerous improvements in product specifications, communication, display interface, and software, which pass along the advantages of ease of use, delivery, and value per dollar to the user.
More versatile features and user-friendly functionality have been added to the Partlow 1401+ limit controller including digital inputs, an easy-to-use human-machine interface, jumperless and auto-hardware configuration, 24VDC transmitter power supply, and MODBUS communication. These benefits will save you time (up to 50% on product set-up) and will virtually eliminate the possibility of operator errors.
The Partlow 1401+ limit controller offers fail-safe protection and prevents damage to equipment and products. Partlow 1401+ limit controllers shut down a process when a preset temperature is reached and can't be reset by the operator until the process has returned to a safe operating condition.
Use your Partlow 1401+ limit controller in any application where protection against out-of-range temperature conditions is a critical requirement.
Applications for the Partlow Plus Series 1401+ Limit Controller
Industrial and lab ovens/furnaces
Plastics and thermal forming
Packaging applications
Standard Features
Improved easy-to-use HMI
Jumperless input configuration
Auto-hardware recognition
Improved Windows PC configuration software
Process alarms
Faster communication speeds in selectable MODBUS or ASCII format
FM approved
Backward compatible panel cutout, housing, and terminal wiring capability
Optional digital input and remote reset
Optional 10V SSR driver output