Fluke T5-600/62/1AC II IR Thermometers, Electrical Tester and Voltage Detector Kit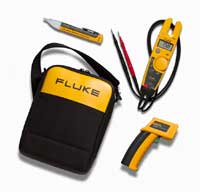 The compact Fluke 62 infrared thermometer teamed with the full featured T5-600 electrical tester and the easy-to-use 1-AC-II non-contact voltage detector offers everything an electrical or HVAC technician will need to solve problems quickly in one convenient kit.
The Fluke 62 infrared thermometer is ideal to test for overheating in electrical devices and the Fluke T5-600 and 1-AC-II non-contact voltage detector to provide additional information to troubleshoot and identify the problem.
Fluke T5-600/62/IAC II
Includes:
Fluke 62 Infrared Thermometer

Fluke1AC II VoltAlert Voltage Detector

Fluke T5-600 Electrical Tester

C115 Deluxe soft carrying case with shoulder strap
Fluke T5-600/62/IAC II
Fluke T5 electrical testers let you check voltage, continuity and current with one compact tool. Troubleshoot a wider range of problems safer and faster than a traditional solenoid tester.

Available in 600 volt and 1000 volt models

OpenJaw™current feature lets you measure current up to 100 amps without breaking the circuit

Rotary switch selects volts, amps and ohms function

Detachable SlimReach™test probes reach into tight places, fit snugly into wall sockets, and stow neatly in the back of the testers

Optional H5 holster keeps the tester leads neat and lets you clip the T5 onto your belt

Rugged design—testers withstand drops from up to 10 feet!