Raytek MI Series Infrared Temperature Sensor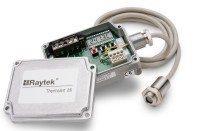 The Raytek MI Series is a two-piece infrared temperature measurement system with miniature sensing head and separate electronics. This Raytek infrared temperature sensor is small enough to be installed just about anywhere, yet it performs as well as much larger systems.
This infrared temperature measurement system from the Raytek MI Series includes a host of signal processing features which you won't normally find in systems in this price range. These features include Emissivity, Peak Hold, Valley Hold, and Averaging, all of which are adjustable on the 5-digit LCD user interface.
Designed for a wide range of applications where the target temperature is in the -40°F to 1,112°F (-40°C to 600°C) range, the Raytek MI infrared temperature measurement system's sensor is housed in a rugged stainless steel enclosure. This ensures long term performance, even in harsh industrial environments with ambient temperatures up to 356°F (180°C) without cooling.
Although the MI infrared temperature sensor from Raytek is small in size, it still has the features you need, with 1% accuracy, standard 10:1 or optional 22:1 optics, and user selectable output signals. And the Raytek MI Series' response time is as fast or faster than many advanced systems.
Even more features are available to the Raytek MI infrared temperature sensor with the RS-232 or optional RS-485 communications and the new DataTemp® MultiDrop Software. These features include remote control and monitoring of all sensor variables, a 5V alarm signal triggered by a target temperature or head ambient temperature, an 8-position "recipe" table that can be easily interfaced to an external control system, an external reset signal input for signal processing, and even external inputs for analog emissivity adjustment or reflected energy compensation.
The Raytek MI infrared temperature measurement system's miniature size and low cost make it ideal for installation at multiple points along your process. Accurate. Rugged. Easy to install. Affordable. With the Raytek MI Series, precision infrared temperature measurement is now an economical alternative. Raytek MI infrared temperature sensor – the hottest sensor in the industry.

Infrared Temperature Measurement - Technology Explained
Infrared thermometers measure temperature from a distance by detecting the amount of thermal electromagnetic radiation emitted from the object being measured. This allows users to accurately measure surface temperatures in hazardous, hard-to-reach places, or other situations in which non-contact temperature measurement is desirable. Infrared thermometer technology is useful in a wide range of applications – including industrial, laboratory, food service, fire fighting, hobby, and home use.
While the technology is relatively simple, the myriad of names given to these devices can be confusing. "Laser Thermometers" makes reference to the laser that helps aim the thermometer. "IR Sensors" and "IR Thermometers" make use of a common abbreviation for "infrared". "Non-Contact Thermometers" is descriptive of the device's ability to measure temperature from a distance. "Radiation Pyrometers" is a scientific/technical term for these devices.