Combustible Gas, CO, H2S, O2 Detector Gas-Sentry CGA-401

Gas-Sentry Model CGA-401
Four-In-One, Fast, and Accurate
This multifunctional detector, developed with support from the Gas Research Institute (GRI), combines previously separate instruments into one small, lightweight package at a fraction of the total cost. Two types of combustible gas sensors, an electrochemical combined carbon monoxide (CO) and hydrogen sulfide (H2S) sensor, an electrochemical oxygen (O2) sensor, a built-in pump and microprocessor control provides fast and accurate gas readings. The Gas-Sentry is used for verifying the safety of breathing air prior to entry and while working in confined spaces and during post fire overhaul, locating combustible gas leaks and accelerants, and outdoor / indoor differential CO readings. Now you can carry one detector and do the whole job both indoors and outdoors.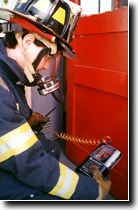 Checking Air with CGA-401 Prior to Entry
The model CGA-401 detects combustible gas over the range of 0 to 100% of the gases lower explosive level (LEL) with a catalytic combustion sensor. High levels of combustible gas up to 100% by volume are checked for with a thermal conductivity sensor. Oxygen deficiency and oxygen excess are checked for electrochemically over the range of 0 to 40%. Carbon Monoxide and hydrogen sulfide are detected on a single electrochemical sensor over the range of 0 to 1000 ppm H2S and 0 to 4000 ppm CO Calibration on CO calibrates the sensor for both gases. CO is measured with 1 ppm resolution and with specificity when the external interference filter is used to remove H2S prior to detection. A fast TRACK GAS scale helps locate gas leaks quickly when the detector is used with the gooseneck probe.
All alarm conditions are checked every 2 seconds when using any scale, except TRACK GAS which is reserved for leak location and as a reminder of this scale's limitation the detector beeps every two seconds when TRACK GAS is selected. When any alarm condition is sensed on the other three scales the detector signals acoustically and flashes on the large bright LED display a clear indication (LEL, CO, HiO2, and/or LoO2) of which alarm condition has been detected.
The detector comes with a standard 12 inch two piece probe, a metal telescoping flue probe with refillable interference filter, a gooseneck probe, a manual, a laminated short guide to operation, a set of batteries, a carryall with pouch for standard probe and flue probe, and a shoulder strap. Also included is:
Automatic Calibration (A-CAL TM)
Automatic calibration is a standard feature built into all Gas-Sentry detectors. Using Bascom-Turner's calibration gas, delivered either manually or by an automatic gas dispenser, detectors are automatically calibrated in about 30 seconds.
Lifetime Limited Warranty
There is a lifetime limited warranty on the detector's electronics and a three year limited warranty on sensors applicable to detectors and sensors in the USA. The pump and accessories are warranted for one year.
Intrinsically Safe
UL listed for hazardous locations, Class 1, Div. 1, Groups A, B, C, and D.
Options
Docking Calibration (D-CAL TM) - Optional hardware and software allow automatic bi-directional serial IR communication between a Gas-Sentry, equipped with an optional sapphire window, and a docking station for calibration verification and record-keeping.

Automatic Calibration Gas Dispenser - for 30 second automatic calibration on 0.75% pentane and 100 ppm CO.

Ceiling Probe & Straight hose - clear plastic 34 inch long probe and 10 foot long straight hose for underground safety checks.

Quick Connect Fittings - for quickly changing from hose to gooseneck probe.

Instrument Case - for storage of detector and accessories.

Breath Zone Probe & Belt Clip - for continuous monitoring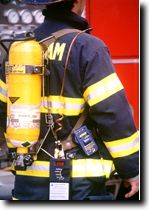 Gas-Sentry on belt monitoring gas in breath zone
See also:
For additional toxic gas detectors see: