Bascom-Turner Gas-Sentry CGA-501 Combustible Gas, CO/H2S and Oxygen Monitor

Gas-Sentry Model CGA-501
Continuous Gas Monitor for Utility Service Personnel
Accurate, compact and rugged, continuous monitor specifically designed for utility service personnel to test an enclosed space atmosphere prior to entry and monitor it after entry.
Built-in pump for drawing gas samples.

Over 40 hours of continuous use with a set of four alkaline AA batteries.

Self-cleaning CO/H2S sensor.

Large, bright LED digital display readable in ambient light or in the dark at twenty feet.

Weighs less than 20 oz.
Operational Description
The CGA-501 monitors combustible gas, carbon monoxide and hydrogen sulfide, and oxygen. All four gases are monitored continuously while the display shows the concentration of a particular gas selected by a front panel switch. The unit alerts audibly and visually if one or more gases are outside their alarm limits. The CGA-501 can be automatically zeroed and calibrated on the AUTOZERO scale in under 60 seconds with gas delivered either manually or by an automatic gas dispenser.
Operational Features
Accurate, fast, easy to use.

15 second warm-up time.

60 second automatic calibration.

Operating temperatures -10 to 130 degrees F.
Long-lived sensors, a conformally coated circuit board, and a tough, high impact ABS case stand up in the field.
The monitor comes with a standard 6 inch probe with dust and water block filter on a 5 foot straight hose with a quick connect fitting, a breath zone probe with collar clip on a 2 foot hose with a quick connect fitting, a manual, a laminated short guide to operation, a set of batteries, carryall, and a shoulder strap. Also included is:
Lifetime Limited Warranty
There is a lifetime limited warranty on the monitor's electronics and a three year limited warranty on sensors applicable to monitors and sensors in the USA. The pump and accessories are warranted for one year.
Intrinsically Safe
UL listed for hazardous locations, Class 1, Div. 1, Groups A, B, C, and D.
Options
Docking Calibration (D-CAL TM) - Optional hardware and software allow automatic bi-directional serial IR communication between a Gas-Sentry, equipped with an optional sapphire window, and a docking station. Calibration data, sensor sensitivities, and usage times are centrally available to manage risk. Faxes reminding users of scheduled or overdue calibrations are sent automatically.

Belt clip - on back of monitor

Ceiling Probe - clear plastic 34 in. long for overhead checks and extra reach.

Water-stopper with Flexible Neck - for fast recovery under very wet conditions.

Instrument Case - for storage of monitor and accessories.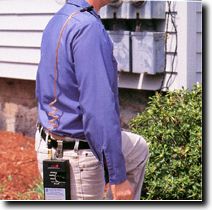 Gas-Sentry Model CGA-501 continuously monitoring breath-zone gas
See also:
For additional toxic gas detectors see: