Continuous Level Transducer from Almeg Controls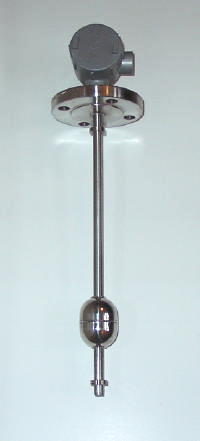 Continuous Level Transducer is available in many configurations and material. Level indication is provided by a sealed internal pc board configured to sense the magnetic lines of flux emitting from the magnet equipped float as it follows the fluid level.

As well as sensing high fluid levels - floats can be configured with optional specific gravities to determine levels or the interface of other fluids such as hydrocarbons on water.

Floats also can be ordered in custom sizes - from 1 1/2" to 8" for example. Sensor lengths can be 19'.
How Does It Work?
The transducer probe encapsulates a tiny printed circuit board isolated from the probe wall and is sealed at the top preventing moisture from entering the assembly.


As the magnetic equipped float travels the probe (following the liquid level) it taps off sections of the probe thus outputting a signal that is calibrated to equal the level.
Output can be resistive with 1 to 10 VDC, or a 4 – 20 output for other types of controls. It can control a local level meter, bar graph, adjustable start stop level or pump control, alarms, chart recorders, be directed to a web and more.
Features
The SRC series is not limited to the spec sheet.

Standard lengths in stainless to 10 feet

Brass to 11.5 feet

Special request sp.gr. floats for hydrocarbons etc.

Several outputs available 0 to 5 VDC, 0 to 10 VDC, 4-20 mA

Local or remote readings – analog or digital

Probe size can be 0.50", 0.625", 1", 1.25" tube

Many process connection options

Complete controls are available – some not shown

Sensing voltage – 20 VDC Max

Custom lead lengths
Easy Ordering
Select, compatible to process, transducer material

Choose process connection size 2" NPT and up or ½" NPT

Select transducer indicating length

Select probe length -2" required above and below transducer for float to fit. ½" diameter is most cost effective

Select output

Call or send a sketch and a drawing will be returned for approval