Single Point Level Switch from Almeg Controls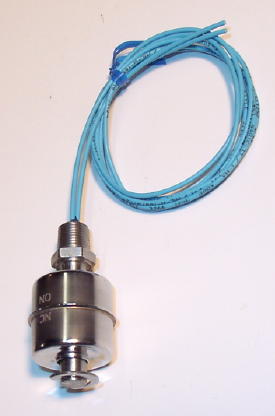 Single Point Level Switches in most materials. Usually used for high or low alarm vessels. The page offers the most popular configurations - but custom or OEM controls can be discussed.
Small, medium or large level switches for high alarm or low alarm

Install in the top or bottom of a vessel

Variety of float and probe materials available

1/8" NPT or 1/4" NPT connections available

High resistance to shock and vibration

Switch state is field adjustable - switches are shipped N/O unless otherwise requested

100% of the switches are tested before shipping

Custom controls are available for these switches

Reed switch rated at 240 VAC / DC @ 0.5 amps resistive carry 2 amps.

Custom requests would be eg. 1/2" UNF.

Click here for pdf spec sheet.




All Models for Level Switch or Level Control
Material

Pressure

Temperature

Specific

Gravity

Float

Weight

Using

Titanium Float

316 Stainless Steel
500 psi
-040 to 300 deg F
0.72
7.6 g
SVT12
Closed Cell Buna
200 psi
- 40 to 225 oil F
0.4
BVT12
PVC
100 PSI
100 deg. F
0.7
6.5 g
PVT12
Kynar
100 psi
100 deg. F
0.7
6.5 g
Polypropylene
100 psi
100 deg. F
0.7
6.5 g
Nylon
100 psi
100 deg. F
0.7
6.5 g
Small Size Level Switch or Level Control 1/8" NPT
Probe

Material

Using

Stainless Float

Using

Buna Float

Using

Polypropylene

Using

Kynar Float

Using

Titanium Float

Stainless Steel
SVS12
SVB12
SVP12
SVK12
SVT12
Brass
BVS12
BVB12
BVP12
BVK12
BVT12
Polypropylene
PVS12
PVB12
PVP12
PVK12
PVT12
Kynar ( pvdf)
KVs12
KVB12
KVP12
KVK12
Medium Size Level Switch or Level Control 1/8" NPT
Probe

Material

Using

Stainless Float

Using

Buna Float

Using

Polypropylene

Using

Kynar Float

Using

Titanium Float

Stainless Steel
SRS12
SRB12
Brass
BRS12
BRB12
Large Size Level Switch or Level Control 1/4" NPT
Probe

Material

Using

Stainless Float

Using

Buna Float

Using

Polypropylene

Using

Kynar Float

Using

Titanium Float

Stainless Steel
SXS25
SXB25
SXP25
SXK25
SXT25
Brass
BXS25
BXB25
BXO25
BXK25
BXT25
PVC
PXS25
PXB25
PXP25
PXK25
(pvc float) PKP25
Kynar ( pvdf)
kxk25
Titanium
TXT25