Level Sensor for Remote Sensing from Almeg Controls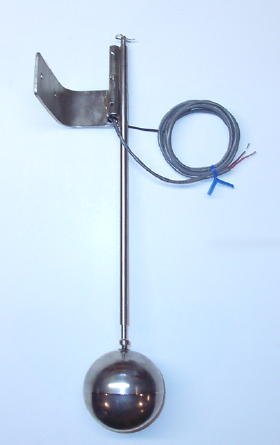 The all stainless Sensor SL series is designed for applications where foreign product may be lodged between the stem and float. Other configurations available.

Installation:


The SL is ordered with the length measured from the bracket to the float water level. Moving the reed switch up or down can be done for fine adjustment. Temporarily set the sensor assembly with the setscrew then tighten the locking ty-rap. If the setscrews are kept – be sure to use a threadlocker. Only two or three threads are in use.

Test with an OHM meter. Manually lift the float until the switch closes. The float to bottom tube stop should be adjusted to about 3/8".



Check for on/off operation and re-adjust if necessary. Periodic manual testing should be preformed on a regular basis.

Operation:
The float is attached to a tube that slides in a guide as the liquid level either rises or falls. The sliding tube has an alinco magnet completely epoxy encapsulated near the top end. A 3" float is used up to about 20". After that the float diameter needs to be increased.

At the top of the assembly is a hermetically sealed and encapsulated reed switch that is position adjustable. When the magnet comes in "range" of the reed it closes the contact on rise and opens on fall.



The SL series is a single point and is recommended for high or low alarm. Model SL-2 is equipped with two sensors that can be adjusted to maintain a level using the appropriate relay.

Sensor:
The reed is hermitically sealed and encapsulate and c/w 6 ' of pvc cable
Voltage: 250 VAC\DC
Amps: 0.5 amps resistive carry 2
CSA and UL approved reed switch
Must be installed according to local electrical codes.
Float – 316 SS Max pressure 600 psi.