Stainless Steel Flow Switch from Almeg Controls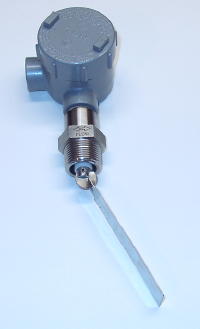 Designed to detect flow or no flow in pipes with diameters from 1 1/4" to 4" NPT.
The flow switch is supplied with a full length paddle and is trimmed at the time of installation to the required flow rate.

The flow profile is engraved on the paddle. The flow switch is SPDT equipped and is capable of switching in either direction.

Plastic model information available soon.
Activation Range (chart to follow)
1 1/4"pipe 5 psi to 4" pipe 38 psi.
(depends on paddle length cut)
| | |
| --- | --- |
| Fitting Size | 1" NPT c/w 1/2" NPT Facing Up |
| Paddle | 316 Stainless Steel |
| Spring | 316 Stainless Steel |
| Other Wetted Parts | Teflon (TM) and Ceramic |
| Temperature | 125 deg. C Max - 200 deg. C |
| Maximum Pressure | 1900 psi |
| Pressure Movement | 3 psig |
| Switch Rating | 1A / 250 VAC Resistive SPDT |