ACR PowerWatch Voltage Disturbance Recorder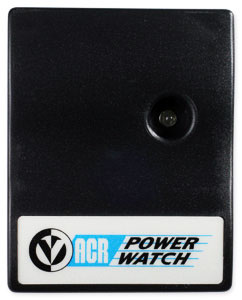 ACR PowerWatch logger records essential power quality events and disturbances. It provides safe, stand alone operation with no wires, alligator clips or other exposed wiring. With the capacity to record up to 4000 events and an optical alarm indicating events occurred, ACR PowerWatch is the easiest way to monitor and record essential voltage disturbance information.








Common Specifications
Size

85 mm x 68 mm x 35 mm. (3.35" x 2.65" x 1.35")

Weight

120 g (4 oz)

Case Material

Noryl® Plastic

Operating Limits

-40 to 70°C (-40 to 158°F) and 0 to 95% RH (non-condensing)

Battery

3.6 Volt Lithium

Battery Life:

10 years under normal use (factory replaceable)

Memory Size

32 KB (4000 events)

Sampling Method

Continuous (half cycle integrated)

Storage Method

First-in, First-out or Fill-then-stop

Fuse

1/16A fast-blow (non-replaceable)

Alarm Type

Optical (flashing red LED)

Event Types Detected

Surges, sags, impulses, dropouts, outages, frequency variations

Measurement Locations

Hot-to-Neutral and Neutral-to-Ground

Plug Configurations

120 Volt (for North America) - see PowerWatch 120V
240 Volt (for Australia, UK and Continental Europe) - see PowerWatch 240V

PC Requirements

IBM PC or 100% compatible with at least 2MB RAM, 2MB of hard drive disk space and one free serial port

Software Requirements

PowerWatch Software - compatible with Windows® 2000, XP and Vista 32bit

Certifications

CSA, NRTL/C, and UL3111-1
View the PowerWatch Product Selector based on Country of use.